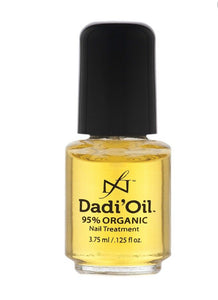 Dadi Oil
Dadi' Oil is a nail & skin treatment oil designed to deliver flexibility, toughness, and shine to the natural nail, nail enhancement and the skin!  Dadi' Oil penetrates quickly and leaves no greasy after-feel.  Dadi' Oil combines three certified organic oils-  Avocado, Olive and Jojoba- to plasticize, moisturize, and soften.
  We've also added
Natural
Vitamin E
which is a powerful anti-oxidant. 
Plus, our aromatic blend of essential oils smells fresh, therapeutic, and rejuvenating!